Our Agility Superstar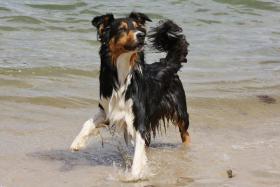 Ag Ch Cuebiyar FollowURDreams (iid)
ANKC titles: Agility Champion, ADM ADO JDM JDO GDM SDM SPDM
ADAA titles: MAAD10 AAGD4 AAC IAD2 AJD2 GD SD RMAAD14 RAJD3 RAAAD2 RAAGD5
© Sam Bois
Jahzara is African for "Blessed Princess" and she certainly has been blessed in so many ways. She is a very sweet, loving dog, who absolutely adores people as well as her growing list of doggy friends. From the moment we brought her home she settled into the dog pack easily and we quickly realized we had another special girl in our family.
I enjoy competing in agility so we were looking for an active dog that would fit in with our lifestyle and interests. When Amanda told me she had exactly what I was looking for in a black tri bitch from her new McMatt import I jumped at the opportunity and Jahzara came home to live with my husband and I and our two Australian Shepherd boys.
From the day I bought my puppy home she hit the ground running. Her nickname Squirrel (or Squizza as she is affectionately known) came about from her jumping and scurrying around. She was such an active puppy; if she wasn't sleeping she was chasing the boys and jumping on them or thrashing a tug toy around in her mouth; which at the time was about twice her size.
Jahz puts 110% into everything she does and she constantly makes me laugh, her enthusiasm for life is so infectious. She is a naturally obedient dog and tries her hardest to please, which makes her so enjoyable to train. I use positive training methods and Jahz loves all kinds of toys, especially larger balls like footballs or soccer balls but her all time favourite activity or rather "obsession" is anything to do with water. She chases the water from the hose and launches herself into swimming pools, dams or the ocean with a spectacular dive. She will entertain herself for hours just swimming around in the water and talking to her self in a quiet squeaking tone that is also present when she's highly excited about visitors arriving.
Jahz is intelligent; a very deep thinker and shows maturity well above her age when in work mode. She's quick to learn new skills and once taught she is very reliable. She truly is a pleasure to own and live with and I couldn't imagine my life without her. Thank you so much Ben and Amanda, for trusting me with one of your special puppies.
Some Career Highlights:
Australian Shepherd Club of Qld Excellence in Trialling Award for 2008, 2009, 2010 & 2011
2008
ADAA Australian Agility Champion (AAC) Title
Qld State Agility Titles

"STATE WINNER" Novice Snooker.
"RUNNER UP" Novice Strategic Pairs.

National Agility Championships:

Open Agility - 4th Place **2008 National Open Agility Finalist**
Masters Agility - 2nd Place **2008 National Masters Agility Finalist**

ADAA Grand Prix:

**WINNER OF THE MAXI TEAM CHALLENGE**
2009
ADAA Grand Prix:

**WINNER OF THE INDIVIDUAL MAXI GAMES CHALLENGE**
**WINNER OF THE ALL ROUND CHALLENGE**

7 x 1st places in Advanced earns Jahz her International Agility Dog (IAD) Title
2010
Qld State Agility Titles "STATE WINNER" Masters Agility.
ADAA Grand Prix:

**ALL ROUND CHALLENGE 3rd Place**
2011
ADAA Nationals:

**NATIONAL CHAMPION Agility**
**NATIONAL CHAMPION Jumping**
**NATIONAL CHAMPION Snooker**
**Runner Up NATIONAL CHAMPION Gamblers**
**NATIONAL CHAMPION Biathlon**
**NATIONAL CHAMPION ALL ROUND CHALLENGE**

Qualifies as an ANKC **Agility Champion** (only the second Aussie in Australia to title)
ADAA Grand Prix:

**WINNER OF THE ALL ROUND CHALLENGE**
**WINNER OF THE MEDALLION STAKES INVITATIONAL EVENT**
2012
Winner WAC (World Agility Championships) Downunder Individual Maxi Challenge
ADAA Qld State Championships - Biathalon Runner Up Maxi Class
ADAA Grand Prix - Medallion Stakes Finals Winner (2nd year running)
ANKC Qld State Agility Titles

Champion Masters Agility
Champion Masters Jumping
2013
ADAA Nationals - Regular Snooker Champion Maxi Class
ADAA Grand Prix

Medallion Stakes Finals Winner (3rd year running)
Winner Individual All Round Challenge (for the third time)

Finished on top of the Medallion Stakes tally earning a Gold Medal
ADAA 2013 Regional Dog Of the Year
Regional dog of the year is based on 10 selected events throughout the year.
Jahz finished on top with a perfect score in every round to finish with the maximum possible points.
ANKC Qld State Agility Titles

Champion Masters Jumping
Champion Masters Snooker